Get Down from There – and Other Remarks
23.8
— The Wall, Töölönlahti Bay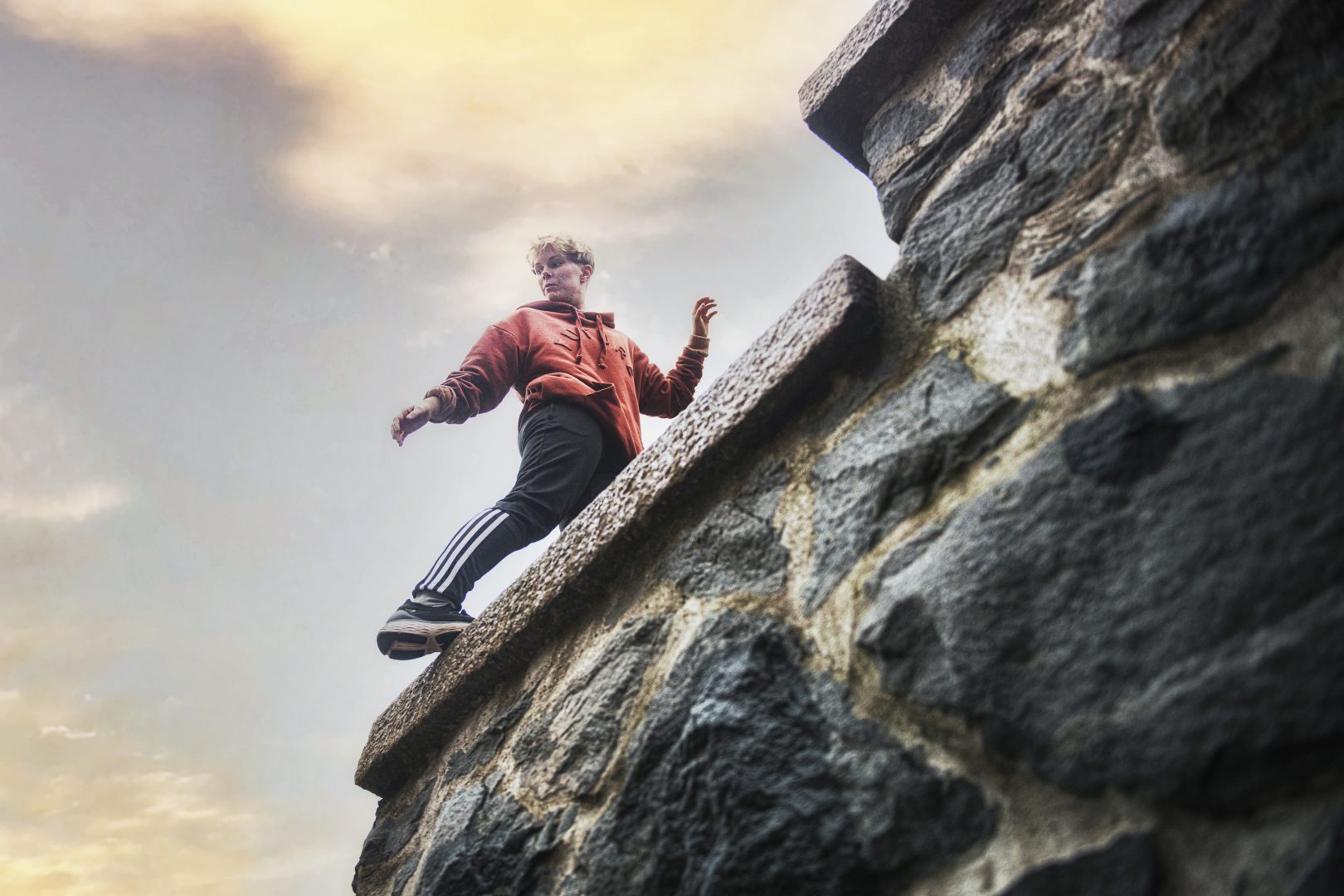 Photo: Uupi Tirronen
The performance Get Down from There – and Other Remarks, directed by Jukka Tarvainen, combines dance and parkour as a manifestation of human actions. It is inspired by the working group's own observations and personal experiences on human behaviour, movement, and spending time in public locations; the work examines the attitudes of passersby towards unconventional events in the streetscape, and a social pressure arising from the shared public environment.
The work is performed by two contemporary dancers and two parkourists, along with a group of amateur movers. The sound design is by Jouni Tauriainen and the light design is by Lauri Sirén, working in collaboration under the darkening August nights.
Joni Kärkkäinen's The Wall will be seen at the Helsinki Biennial from 12 June to 26 September 2021, in the park by Töölönlahti Bay. The Wall is located close to the Finlandia Hall, on a lawn next to the childrens' playground. The performance will take place in connection with The Wall.
The event is free and requires no pre-registration. We may have to limit the number of audience members according to the Covid-19 regulations at hand. The performance will take place outdoors and the audience will sit on the lawn. You may bring something to sit on if you wish. A possible cancellation due to bad weather will be communicated on Zodiak's various communication channels.
Choreography and direction: Jukka Tarvainen
Performers: Kauri Sorvari, Niklas Eränpalo, Sanni Vesterinen, Jussi Suomalainen; Kirsi Nisonen, Katia Skylar, Piitu Viittanen, Pyry Miikkulainen, Oona Palomaa, Minttu Mustonen, Anne Harju, Unto Ikkala
Light design: Lauri Sirén
Sound design: Jouni Tauriainen
More information: https://www.zodiak.fi/en/joni-karkkainen-jukka-tarvainen-wall