Introduction to the Exhibition: Sara Wallgren: Sympathetic Resonances with Eveliina Tuulonen
04.9 klo 12:15
— Galerie Sinne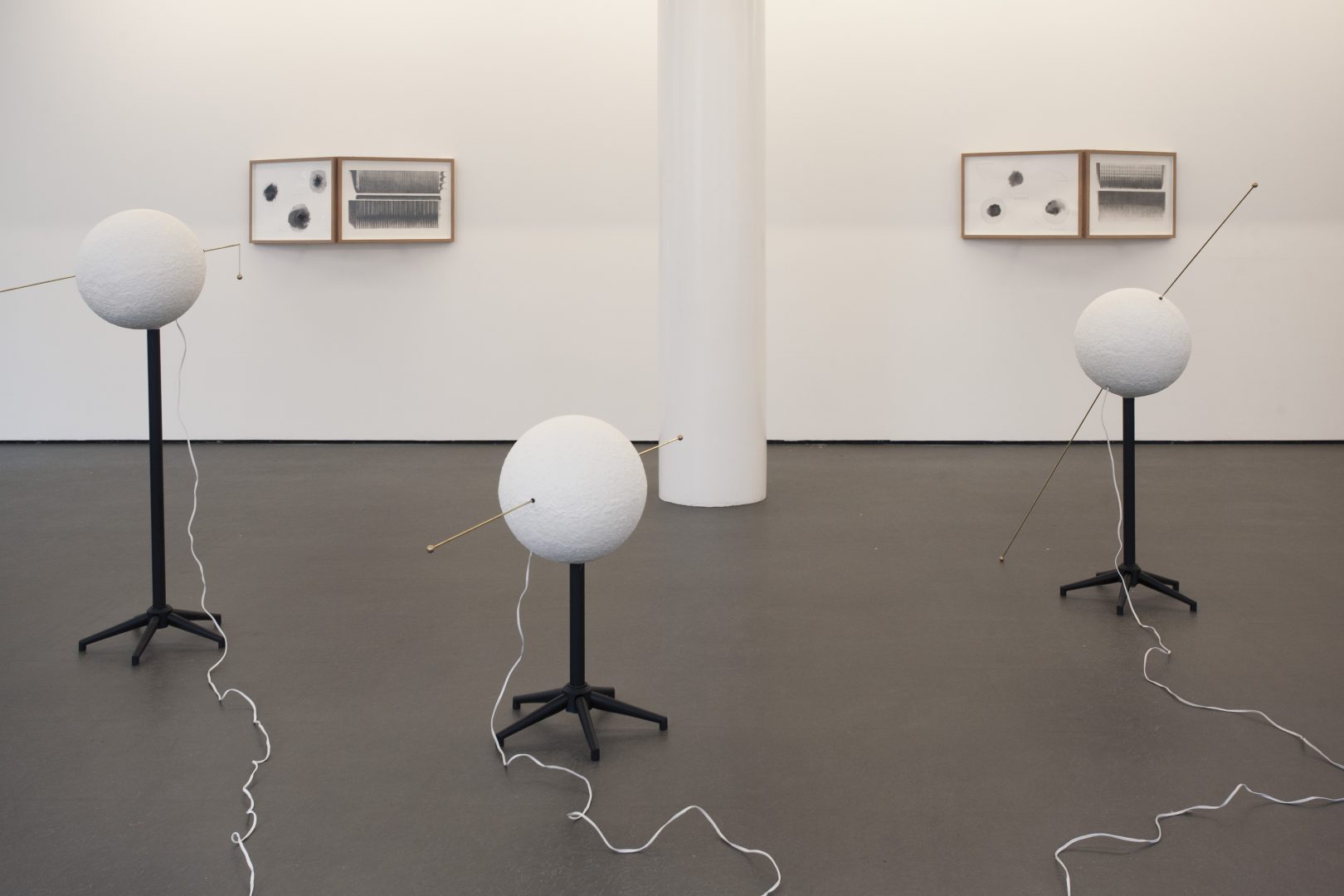 Photo: Sara Wallgren, Sympathetic Resonances. © Saku Soukka
(13.8.2021 – 3.10.2021)
Registration for this event is closed.
Host: Sinne/Pro Artibus Communications and Gallery Coordinator, Eveliina Tuulonen
Time: 12:15
Gallery open hours: 11:00-17:00
Location: Galerie Sinne, Iso Roobertinkatu 16, 00120 Helsinki
Sara Wallgren's art occupies a zone somewhere between drawing and sound. Her work is strongly rooted in material studies and in observations of physical phenomena. For Wallgren drawing is a way of going deeper into a subject and of making contact with new angles and perspectives. In her audio works she brings sound together with sculptural elements. The artist sees the physical expression as a container for the otherwise invisible sound.
For her exhibition at Sinne, Wallgren has worked with exploring various acoustic phenomena. In one installation, she works with the acoustics of the room, where the installation is a series of sculptures that act as sound absorbers and which intention is to try to reduce and break off frequencies that move through the room. She also shows a series of drawings, which examine potentially healing and subjective frequencies. For the exhibition, she has brought together the technical scientific with the possible healing power of sound.
The title suggests an interaction between object and sound. The title is a phrase borrowed from the world of musicology, where the term "sympathetic resonances" is described as a harmonic phenomenon wherein a formerly passive string or vibratory body responds to external vibrations to which it has a harmonic likeness.
The series of drawings Sympathetic Resonances with the same title as the exhibition explores the acoustic phenomena of healing and subjective frequencies: frequencies heard but non existing. The subjective frequency is a binaural frequency: a perceived frequency that is an illusion and construction created when the two sides of the brain is receiving one frequency each, on heard from the right and one heard from the left. The ink drawings were created through letting the ink dry into the paper as the paper itself was vibrating on speakers emitting the sound of a Solfeggio frequency.
The audiovisual installation Critical Distance further explores sounds with potential healing properties; Tibetan bowls, sounds that triggers alpha waves in the brain, sounds that reportedly were used frequently in ancient Egypt, Greece as well as used by native populations to heal and focus. Spheres made of paper clay, brass rods and brass bells both contain and emit the sounds as well as suggests a choreographed movement in the room. The title again references a phenomena within the field of acoustics, where the point of "critical distance" is a relation between the sound source, the room and the listening subject. The critical distance is the point at which it is the most difficult to listen to the sound source efficiently.
The installation Catacoustic Movement consists of four triangle-shaped sculptural elements. Catacoustics is the science of how sound echoes and reverbrates in a room. Placed on wheels, the structures are mobile in the room and can thus be made to react and function with different situations and areas within the gallery. They are also fractions of additional walls that conceal, hide, reveal, echoe and reverberate. The four triangles are inspired by sound absorbing and sound reflecting structures and materials.
Sara Wallgren
Sara Wallgren (b. 1981) lives and works in Södra Karstorp, Sweden, and Berlin. She gained a Master of Fine Arts degree from Malmö Art Academy. She has had solo exhibitions at: Galleri Thomas Wallner, Simris; Vita Kuben, Umeå; Galleri Belenius, Stockholm; Härnösandskonsthall; Galleri Breadfield, Malmö; among others. She has participated in group exhibitions at: Antikmuseet, Stockholm; SVA, NYC; Galleri Thomassen, Göteborg; and Bonniers Konsthall, Stockholm. Wallgren has been in a number of residencies internationally, most recently at ISCP in NYC in 2019-20.
—
Sara Wallgrenin taide asettuu piirustuksen ja äänen välimaastoon. Materiaalin tutkiminen ja fyysisten ilmiöiden havainnointi liittyvät vahvasti hänen työhönsä. Piirtäminen on Wallgrenille tapa syventyä aiheeseen ja tavoittaa uusia näkökulmia ja perspektiivejä. Wallgren liittää ääniteoksissaan äänen veistoksellisiin elementteihin. Taiteilija näkee fyysisen ilmaisun näkymättömän äänen säiliönä.
Sinnen näyttelyyn Wallgren on tutkinut erilaisia akustisia ilmiöitä. Installaatiossa Wallgren on työskennellyt tilan akustiikalla, jossa kokonaisuus on sarja veistoksia, jotka toimivat äänieristeinä ja joiden tarkoituksena on vähentää ja rikkoa tilassa olevia taajuuksia. Esillä on myös sarja piirustuksia, jotka tutkivat mahdollisesti parantavia ja subjektiivisia taajuuksia. Näyttelyä varten Wallgren on tuonut teknisen ja tieteellisen yhteen äänen mahdollisen parantavan voiman kanssa.
Näyttelyn otsikko viittaa esineen ja äänen vuorovaikutukseen. Sympathetic Resonances käsitteenä on lainattu musiikkitieteestä, jossa termiä käytetään kuvaamaan ilmiötä, jossa aiemmin passiivinen kieli tai elin reagoi ulkoisiin värähtelyihin, joihin sillä on harmoninen yhtäläisyys.
Näyttelyn nimeä kantavassa piirustussarjassa Sympathetic Resonances on tutkittu akustisia ilmiöitä parantavina ja subjektiivisina taajuuksina: taajuuksina jotka voi kuulla, mutta jotka eivät ole olemassa. Subjektiivinen taajuus on binauraalinen taajuus: se on illuusio ja rakenne, joka syntyy kun aivojen molemmat puolet vastaanottavat yhden taajuuden oikealta ja toisen vasemmalta kuultuna. Mustepiirroksissa musteen on annettu kuivua paperiin sen väristessä kaiuttimilla, jotka lähettivät ääntä Solfeggion taajuudella.
Audiovisuaalinen installaatio Critical Distance tutkii ääniä, joilla on mahdollisesti parantavia ominaisuuksia; teoksessa kuulemme tiibetiläisiä maljoja, alfa-aaltoja aivoissa synnyttäviä ääniä, sekä ääniä joita tutkimuksien mukaan käytettiin muinaisessa Egyptissä, Kreikassa ja erinäisten alkuperäisväestöjen parissa tavoitteena parantuminen ja keskittyminen. Paperisavesta, messinkisauvoista ja -kelloista tehdyt pallot sisältävät ja lähettävät ääniä, sekä luovat koreografista liikettä tilassa. Teoksen nimi viittaa akustiikan alalla kuvattuun ilmiöön, "kriittinen etäisyys", jolla viitataan äänilähteen, tilan ja kuunteluaiheen väliseen suhteeseen. Kriittinen etäisyys on kohta, jossa äänilähdettä on vaikeinta kuunnella tehokkaasti.
Installaatio Catacoustic Movement koostuu neljästä kolmionmuotoisesta veistoksellisesta elementistä. Catacoustic on tiedettä siitä, miten ääni kaikuu ja liikkuu huoneessa. Pyörille sijoitetut rakenteet ovat liikutettavissa ja ne voi siten toimia galleriassa eri tilanteissa ja alueilla. Ne ovat myös murto-osa lisäseinistä, jotka peittävät, piilottavat, paljastavat ja kaikuvat. Neljä kolmiota ovat saaneet inspiraationsa ääntä vaientavista ja heijastavista rakenteista ja materiaaleista.
Sara Wallgren
Sara Wallgren (s. 1981) asuu ja työskentelee Södra Karstorpissa, ja Berliinissä. Wallgren on valmistunut kuvataiteen maisteriksi Malmön Konsthögskolanista. Hänellä on ollut näyttelyitä mm. Galleri Thomas Wallnerissa Simrisissä, Vila Kubenissa Umeåssa, Galleri Beleniuksella Tukholmassa, Härnösandskonsthallissa ja Galleri Breadfieldissä Malmössä. Hän on osallistunut näyttelyihin Antikmuseetissa Tukholmassa, SVA NYCissä, Galleri Thomassenissa Göteborgissa ja Bonniers Konsthallissa. Hän on työskennellyt useissa kansainvälisissä taiteilijaresidensseissä, viimeksi 2019-20 ISCP:ssä New Yorkissa.