Topi Kautonen (1921–2011)
Shorelines, cliffs, the movement of water, nature at different times of the year: these are the themes that Toivo "Topi" Kautonen revisited time after time in his paintings. While his wife Kaarina was fishing and smoking cigarettes in her favourite cove, Kautonen set up his easel on the nearby beach. The shores and ponds of Vallisaari Island, where the couple lived in the Pilots' House, offered endless picturesque scenes.
Toivo Kautonen, the only child of a train gambler and a caterer, was born in Käkisalmi on the shore of Lake Ladoga in 1921. His father played cards on trains and his mother supplied food to the Vahtiniemi fortress, located to the north of Käkisalmi. Kautonen started his favourite hobbies, taxidermy and painting, at a local drawing school when he was a young boy. While in the army, Kautonen applied for a position as a meteorologist and took part in the Winter War in Vahtiniemi in this role. During the Continuation War, he served in the general staff of the coastal artillery on the shores of the lakes Svir and Onega. Kautonen felt he was lucky to get a desk job because he did not want to shoot anyone. He had a humane outlook on life, but he felt the war was justified.
Kautonen, who had been used to military life since childhood and was now a warrant officer, came to work at the weather station on Vallisaari in 1949. There he taught meteorology, the "high tech" science of the time, to conscripts. Vallisaari proved to be a stroke of luck for Kautonen, as Major Noko, head of the central weather station, was also a painter and secured Kautonen a place in the Free Art School. To begin with Kautonen was able to work in the evenings and study during the day under Sulho Sipilä, Sigrid Schauman, Sam Vanni and Urho Lauanne, among others.
"Topi was a passionate, old-school oil painter who painted with fervour. He was very talented at depicting the movement of water and had way of exaggerating colour," says Hannu Hurskainen. Hannu Hurskainen's father Pentti Hurskainen was Kautonen's colleague at the Vallisaari weather station. The Hurskainen family also lived on the island until Pentti Hurskainen died in an aeroplane crash in 1964. His wife Hilkka Hurskainen and Topi Kautonen, both now widows, ended up getting together when they lived on the mainland in the late 1960s. Kautonen's wife Kaarina had died suddenly in 1957. "Topi was a funny and wise man. He was well educated and kept up with the times," says Hannu Hurskainen, who knew Topi Kautonen well for decades.
Kautonen received a small pension from the army, but continued to work from 1965 until 1986 as a janitor at the Ateneum. He had an extensive job description, which included managing the loans of artworks and mounting works in exhibitions. Kautonen knew the museum's collections inside out. In his own words, he was privileged to work in the "heavenly mansion" – and be paid for it. His colleagues also knew about Kautonen's love for art, and often had interesting discussions with him about artworks. As he walked Ateneum's corridors, he gradually took a special liking to particular artists, such as Giorgio Morandi, the "painter of squashed pots". The Ateneum's art treasures also provided inspiration for Kautonen's own work: the painter Yrjö Saarinen provided the inspiration for a self-portrait of Kautonen smoking a pipe, for example.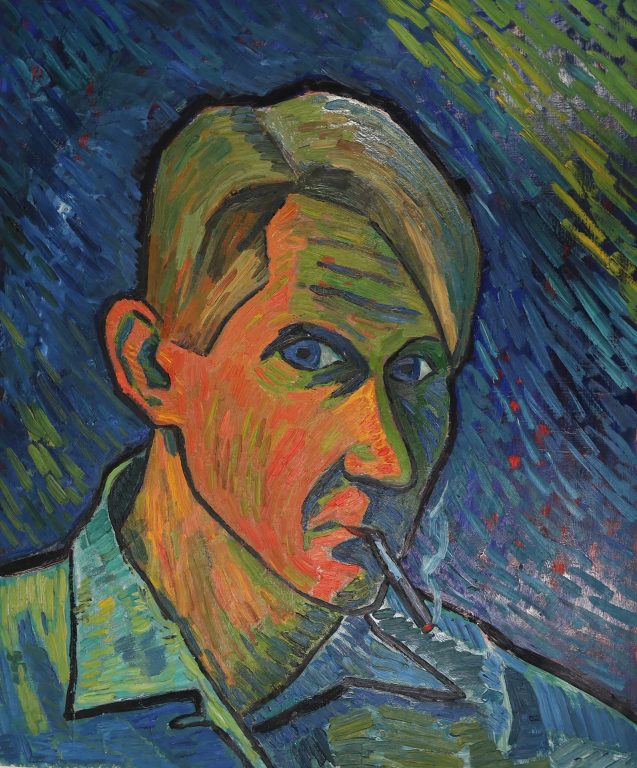 After the war, Kautonen often had exhibitions in Lappeenranta, a city in his native region, and also took part in the legendary 1960 Young Artists' exhibition at Kunsthalle Helsinki. The same exhibition featured works by Laila Pullinen and Rafael Wardi. After the Kunsthalle exhibition in 1960, however, he stopped exhibiting his works. Kautonen never actively sold his paintings or promoted himself, but he never stopped painting as a hobby.
In later life his eye for colour clouded but his use of the brush was always skilful. After his wife Hilkka died he grew more self-critical and became prone to destroying his paintings in a frenzy. Relatives eventually prevented the systematic destruction of his works and so hundreds of watercolours and oil paintings were saved.
Kautonen painted nature all his life: after moving from Vallisaari, he continued to paint its scenery from memory but was unable to visit the island for decades. He also painted cliffs and landscapes in other locations. In 1992, in an interview with the Kodin Kuvalehti magazine, Kautonen talked about his distrust of the human species: "I have become convinced that there is apparently a gene in humans that causes us to self-destruct. Because of this, whatever we come up with will sooner or later turn against us. We imagine that we are something other than part of creation. After all, it is complete madness for us to destroy our environment when we know we are also destroying ourselves."
Kautonen lived on the second floor of stairwell D in the Pilots' House until 1965. His apartment consisted of a small room with a range and a modest bedroom. Kautonen captured his apartment in many of his paintings, often a view of the kitchen and his bed. In all homes in Vallisaari in the 1950s food was cooked on a range fired with driftwood collected from the shores and water was pumped indoors from a well. In addition to painting, Kautonen enjoyed working with his hands. He acquired his own canvases and stretched them himself. In the Pilots' House apartment, there were seagulls and other stuffed birds hanging from the ceiling on fishing line. There were also owls and small birds sitting on the ends of logs or on branches. Kautonen's oil paintings that were painted in Vallisaari will be exhibited here, in his former home. For Helsinki Biennial, the curators chose works that depict the interior of his own home, the landscapes of Vallisaari and his observations of weather conditions.
Text: Reetta Haarajoki
Sources:
Interview with Hannu Hurskainen in Vallisaari 25 October 2019
Interview with Tuula Arkio by e-mail 6 November 2019
"Viskaan turhat asiat poist" (I Throw Out Needless Things), Topi Kautonen's interview in Kodin Kuvalehti 16 January 1992
Operating reports of the Fine Arts Academy of Finland, 1978-1990, Finnish National Gallery archives
Interview with Toivo Kautonen on 23 August 2006, interviewed by Erkki Anttonen, Central Art Archives.
Interview with Ateneum Janitor Toivo Kautonen in 1988 on Swedish Radio, interviewed by Jaana Johansson, Central Art Archives.
+ MAGAZINE CLIP which mentions Kautonen's teachers at the Free Art School.