HAM seniors find contemporary art's beauty with a guided tour
Tuula, Pirkko, and Marjaleena explored Helsinki Biennial 2023 on a guided tour. More than WOW experiences, the seniors are interested in knowledge and immersing themselves in art.
"Art improves our physical and mental health. And then this island!" describes HAM senior Pirkko. After retiring, art has become increasingly important in Pirkko's life as she has focused on theatre, literature, and visual arts.
HAM seniors is HAM Helsinki Art Museum's group that regularly gathers together to experience art and discuss it. Seniors are included in the museum's audience engagement work, commenting on the accessibility of exhibitions and texts, for example.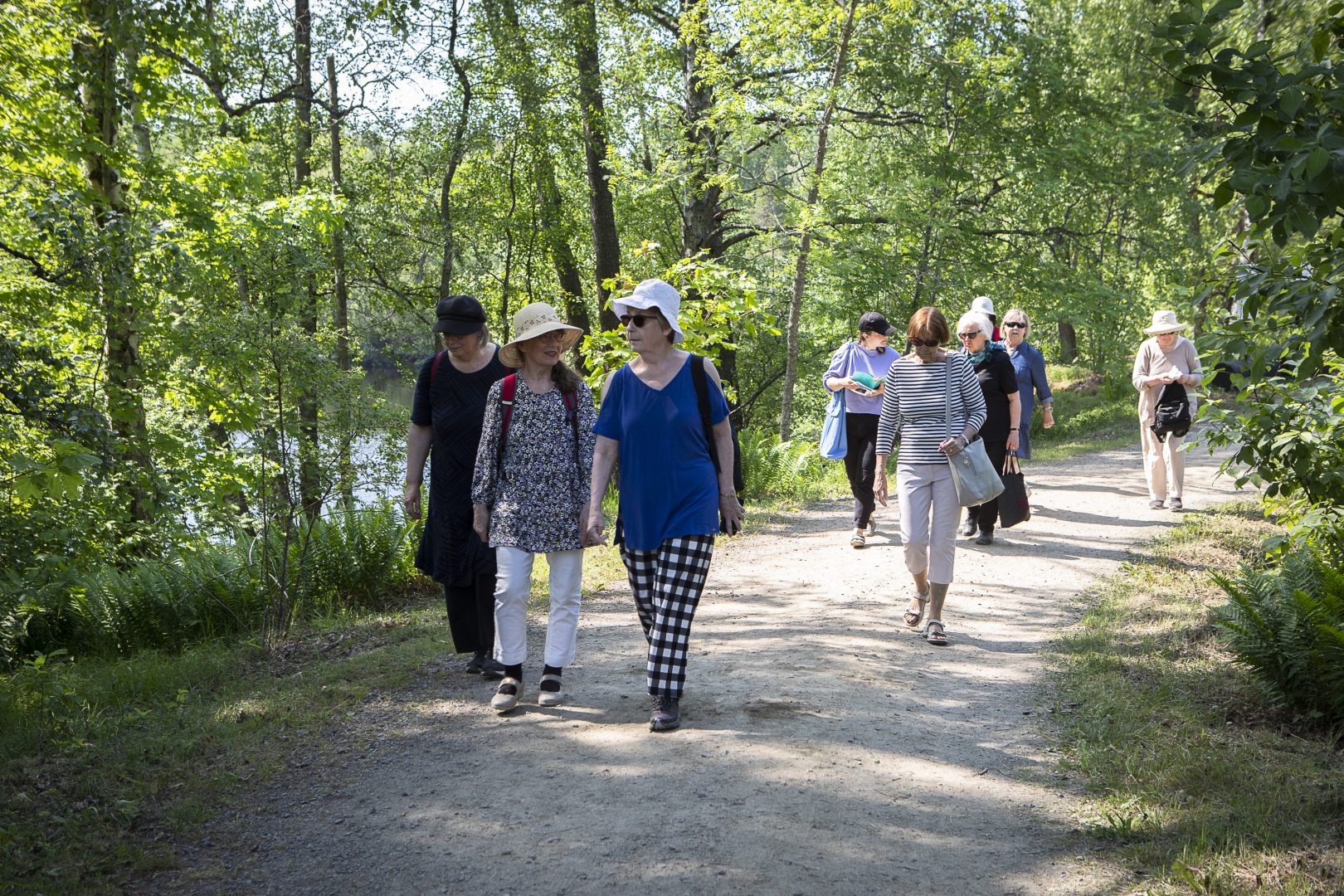 Interviewed now, amid all the summer hustle and bustle, are seasoned HAM seniors Tuula, Marjaleena, and Pirkko. "I cannot even remember how long I have been involved in this – that is how long I have been a HAM senior," Tuula says and continues: "At HAM seniors, we focus on art. It is not about sharing life experience."
HAM seniors visited the Helsinki Biennial exhibition on Vallisaari Island right after its opening at the beginning of June. The tour included six biennial works, lasting 1.5 hours. All interviewees would be happy to revisit the exhibition. All three agree that the island itself is an experience. "The island's nature, as well as its history, impressed me," says Marjaleena.
Pirkko wanted to comment on the review published in Helsingin Sanomat: "Did they expect some kind of WOW experience? This view must be resisted as life is not all about amazing experiences. For me, nature was the WOW experience on the island visit." Pirkko captures something essential about contemporary art: "For example, PHOSfate's work was externally strange. The guided tour revealed a beautiful story behind it." For Pirkko, PHOSfate's work was the most memorable part of the biennial visit in the end. She encourages everyone to go and experience the biennial works themselves. "I gained a huge amount of information from the visit," Pirkko says. "The works made me think."
Marjaleena was impressed by Lotta Petronella's work, by which the seniors spent quite some time: "There was so much to see, such as moths, dried flowers, crocheted details, and lamps dyed with lingonberries." Another highlight for Marjaleena was artist Suzanne Treister's work consisting of 185 images based on original watercolor paintings . "After the visit, I went online to explore images of nice-looking artworks that I did not have time to view during the tour."
Tuula was also impressed by Lotta Petronella's work with its pressed flowers and the story, previously unknown to her, of Ilma Lindgren who secured everyone's rights in Finland – the freedom to roam and forage in nature regardless of land ownership.
From the art tours with HAM seniors, Pirkko has learned a meditative way of looking. She recommends this tool of viewing and focusing on the works for everyone.
Read more and book a guided tour here.
Text: Reetta Haarajoki
Images: HAM/Helsinki Biennial/Kirsi Halkola