Agonistic Intelligence/s public lecture: Dalida María Benfield and Christopher Bratton
15.8 klo 18:00
— HAM Helsinki Art Museum (Eteläinen rautatiekatu 8)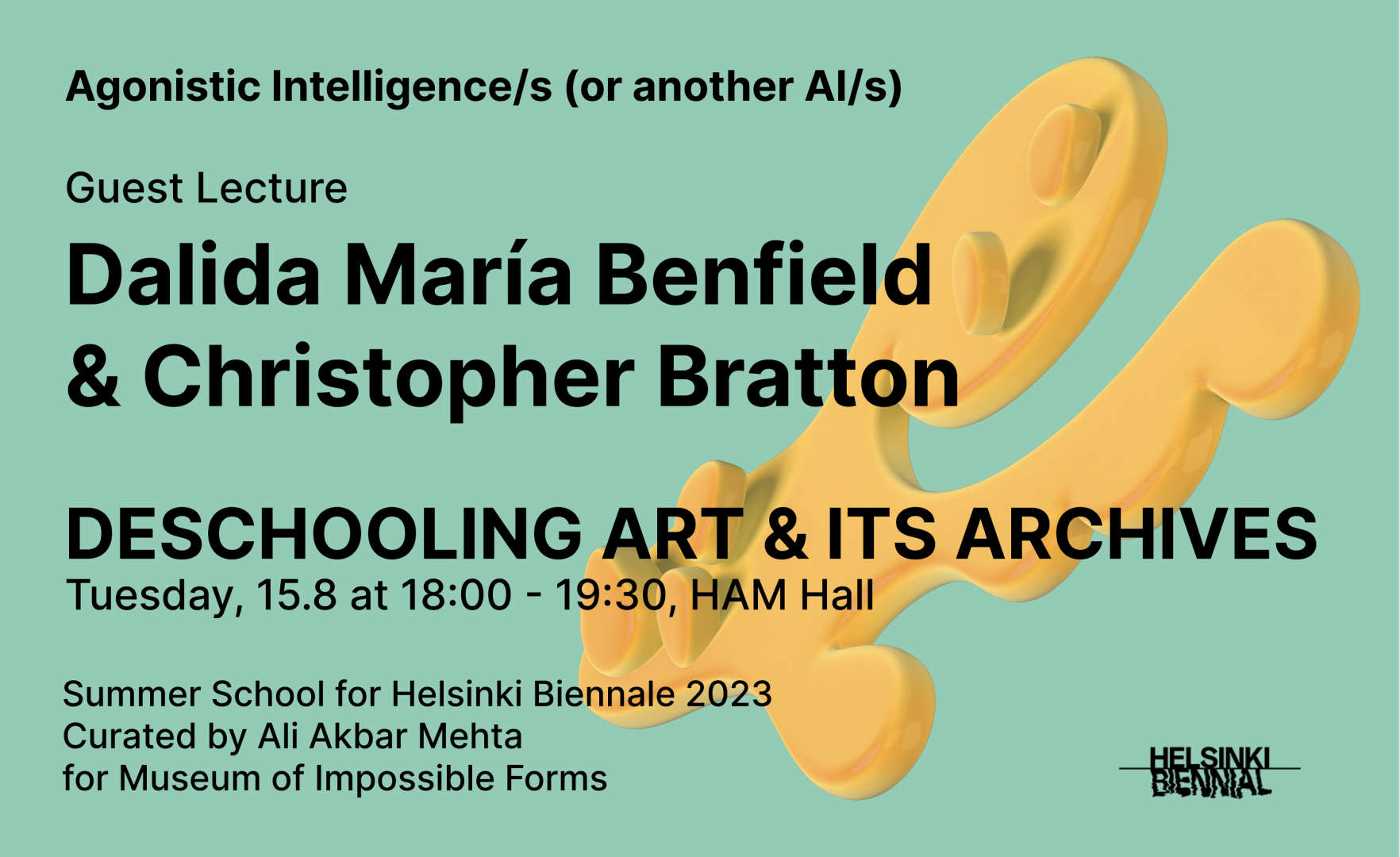 Agonistic Intelligence/s (or another AI/s) is a Summer School by the Museum of Impossible Forms (MIF) in partnership with Helsinki Art Museum (HAM) for Helsinki Biennial 2023. It is curated by Ali Akbar Mehta. 
Agonistic Intelligence/s (or another AI/s) is a gathering of invited provocateurs, guest speakers, and participants to form a research-led working group that engages with a shortlisted selection of the HAM art collection as a key focal node and as an archival site of inquiry. The working group convenes for an intensive 6-day period during the Helsinki Biennial 2023, from August 14-19, 2023, at HAM Helsinki Art Museum, with open-to-public evening lectures and discussion programs.
Read more about the programme here!
Dalida María Benfield and Christopher Bratton: Deschooling Art and its Archives
Tuesday 15.8. at HAM hall from 18:00
Please register to attend here!
The events will be streamed online, see the stream here!

Where, how, and when does "Art" happen? Who makes "Art"? Further, what are the frameworks through which we might formulate answers to these questions? How do we know what we know about "Art"? What are the schools, and the archives, that inform us? To discuss these questions, we use the radical concept of "deschooling" proposed by Ivan Illich in his book Deschooling Society, which makes a powerful argument for forms of learning outside of compulsory schooling. We will share international case studies of arts research and education practices outside of formal schools, including the work of the Center for Arts, Design, and Social Research. These produce relationships and projects that highlight the limits of how "Art" is normatively understood. We will also discuss how this work produces archives (or not), and what, then, might these deschooled archival practices teach us about "Art" museums and other institutional archives.
Dr. Dalida María Benfield (Panamá/US/Finland) is an artist, writer, theorist, and curator. She is a co-founder and the Director of Research and Programs at the Center for Arts, Design, and Social Research (CAD+SR). Dalida's work is focused on decolonial feminist rearrangements of the geopolitics of knowledge. Her research also considers "art education" as a praxis of unschooling. Her career spans leadership, curatorial work, and teaching in higher education and research institutes, NGO/non-profit cultural spaces, and independent media organizations. She has been the co-founder and/or director of numerous autonomous art and media platforms that support research and production, and create new publication and distribution channels, including the Institute of (Im)Possible Subjects. Her work also includes producing videos, installations, archives, artists' books, workshops, and other interventions across online and in-person platforms and diverse spaces; often, collectively. Her writing is published in English and Spanish, and in translation to French, Portuguese, and Russian. Her PhD (2011) was awarded in Comparative Ethnic Studies from the University of California-Berkeley, and her MFA (1989) is from the School of the Art Institute of Chicago. She was a Fellow and Faculty Associate at the Berkman-Klein Center for Internet and Society, Harvard University, 2011-2015.