Museum of Impossible Forms: Polyphonic Entanglements – Discursive Programme
01.9 klo 13:00 - 02.9 klo 16:00
— Cultural Centre Caisa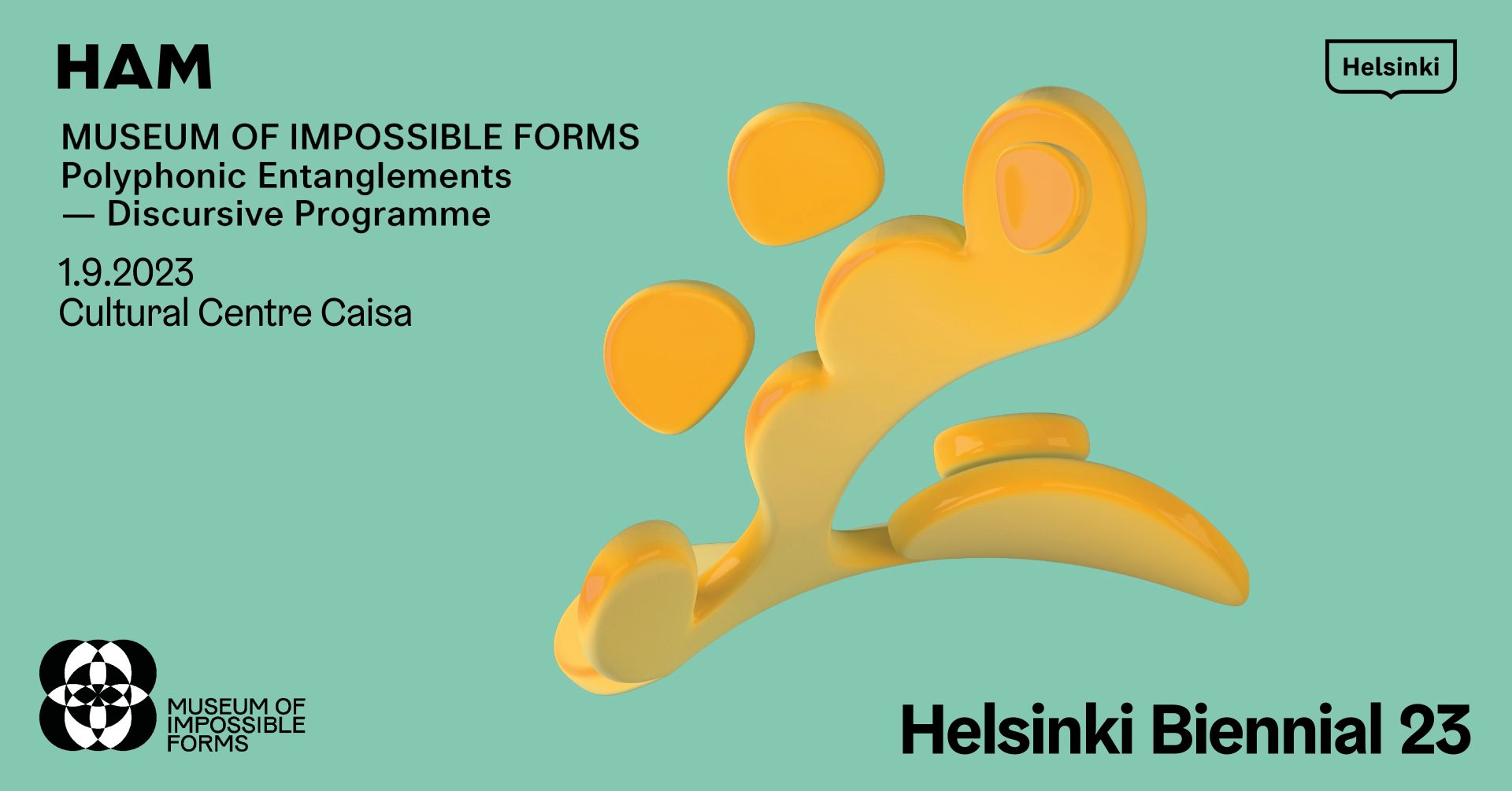 Polyphonic Entanglements is a discursive series developed by Museum of Impossible Forms for Helsinki Biennial. The program is conceived as an evolving assemblage that contextualises and expands on the diverse practices and debates present in this biennial. It proposes a way of thinking-with and through island ecologies, Baltic contamination, radioecologies, desertification, practices of healing and collective resistance to pose questions not about what will come but rather focusing on ways to learn and reset paths-of-entry into spaces of plural transformations.
The second iteration of this series will be on September 1-2 at Caisa Cultural Centre. The two-days gathering brings together lectures, conversations, performances, screenings, sonic interventions and a parade. It convenes the following practitioners Ahmed Al-Nawas, Joss Allen, Band of Weeds, Katarina Barruk, J Culebro, Gerard Mannix Flynn, Minna Henriksson, Anu Huttunen, Ama Kyei, Miia Laine, Sonya Lindfors, Melissa Linsa, LuontoPortti, Maedhbh McMahon, Lau Nau, Cécile Orblin, H Ouramo, Lotta Petronella, Sepideh Rahaa, Mohamed Sleiman Labat, Sami Tallberg, Simmo Vassinen, Elina Waage Mikalsen.
The programme is curated by Giovanna Esposito Yussif, Artistic Director of Museum of Impossible Forms. 
Warmly welcome!
Please see the Saturday 2.9. event and programme here!
The event was streamed and filmed. You can see the 1.9. programme from below:
Programme Friday 1 September 2023 at Cultural Centre Caisa
Friday 1.9.2023
13:00-20:00
Cultural Centre Caisa, auditorium and hall
You are welcome to take part to all events or choose lecture and performances of your interest. To ensure your place, please register to attend to Friday sessions here.
Language of the event is English. The event will be partly streamed live (see the ones that are marked with *).
You can access the stream from here!
Due to some weather caused conditions to the venue, we will be performing all lectures and performances at the Caisa Hall.
Schedule
13:05 Opening words and welcome by Giovanna Esposito Yussif  *
13:10 Screening and sonic intervention | Psyche by Lotta Petronella  *
13:25 Lecture performance | Green Forge by Minna Henriksson and Ahmed Al-Nawas *
14:00 Presentation | Ilma Lindgren and the fight for public access to nature by Anu Huttunen
Followed by a conversation between Eija Lehmuskallio – LuontoPortti and Sami Tallberg moderated by Joss Allen and translations by Simo Vassinen *
15:15 Performance | A Song, the Grain & Me by Sepideh Rahaa *
16:00 Screening and talk | PHOSfate multiple destinies by Mohamed Sleiman Labat  *
17:00 Conversation | Communities of care with Sonya Lindfors, Ama Kyei, and Melissa Linsa moderated by H Ouramo  *
18:15 Sound performance | Geävlliene, bárrun, guassane – As a circle, as a wave, as a sprouce by Elina Waage Mikalsen and Katarina Barruk  
19:00 Sound performance | The New Pangaea – Interspecies Cantata by Band of Weeds with VJ J. Culebro 
About the Seminar Program:

Lecture performance | Green Forge by Ahmed Al-Nawas and Minna Henriksson
Green Forage (Vihreä sampo)  is a journey across Finnish art history reflecting on the contradiction between the national romantic ideal of untouched nature and the reality of the exploitation of natural resources by logging, pulp industries, and the industrial complex.
Ahmed Al-Nawas and Minna Henriksson are Helsinki-based artists and art workers who have been collaborating since 2015. In their practice. they engage in a critical reappraisal of history, politicizing it through art, often with crafts as a focal element in their work.
Presentation | Ilma Lindgren and the fight for public access to nature by Anu Huttunen
​​Ilma Lindgren (1883–1957), a previously unknown woman from Imatra, had a significant role in recognising the public access to nature in Finland. Lindgren won a lengthy legal battle over 20 litres of lingonberries in 1920. The dispute was finally solved by a ruling of the Supreme Court. The verdict was celebrated in national newspapers as an important precedent and a victory for the poor. Thanks to Lindgren's trial, open access to wild berries was finally recognised by law.
Anu Huttunen has researched Ilma Lindgren's life for the Finnish Forest Museum Lusto. A book Metsätyyppejä about people in Finnish forest history to be published 2024. Previously worked with history of psychiatry in a documentary project Museum of Emotions. Ongoing project The Patient's Battle about wartime psychiatric care and refugees in Finland in the 1940's. Huttunen has worked in exhibition scriptwriting, journalism and education
Conversation | Eija Lehmuskallio – LuontoPortti and Sami Tallberg moderated by Joss Allen and translations by Simo Vassinen (Auditorium)

LuontoPortti (NatureGate) – Eija and Jouko Lehmuskallio started documenting nature and developing identification services back in the 1990s. Their material has been used in a TV series and several books. Based on their idea, the NatureGate research working group was set up in 2006, within the University of Helsinki's department of teacher education. Eija will share the history of LuontoPortti and the different struggles they have faced.
Sami Tallberg is a Finnish award-winning chef, food writer and a pioneer in foraging since 2005. Tallberg is known especially for his wild food and mushrooms focused books, catering and courses as well as his concept design in the restaurant and food industry.
Joss Allen can be found at the edges of the garden, amongst the weeds and compost heaps. He is a gardener and cultural worker interested in exploring how creative practices can shape community economies and ecological ways of being in playful, radical, responsive and meaningful ways.
Simo Vassinen is a dancer, performer, writer, translator, and bodyworker with a background in futures research and journalism. His performance work has explored psychoanalysis, emotions related to climate change, the Eurovision Song Contest and subcultural codes – often mixing social research and journalism with dance and physicality.
Performance | A Song, the Grain & Me by Sepideh Rahaa
The performance is a continuation of Rahaa's work Songs to Earth, Songs to Seeds presented at the Helsinki Biennial. The work addresses ancestral knowledge bringing to the fore the poetics of rice as food, as a source of life and being.
Sepideh Rahaa is an Iranian-Finnish multidisciplinary artist and researcher based in Helsinki. She investigates and questions prevailing power structures, social norms, and conventions while focusing on womanhood, storytelling, and everyday resistances. Rahaa aims to initiate and create spaces for dialogue, influenced by feminist politics, decolonial and postcolonial theories and practices as well as social and environmental justice.
Screening and talk | PHOSfate Multiple Destinies by Mohamed Sleiman Labat
Phosphate mineral impacts on two different environments, a desert and a sea has forged many paths and destinies. Processed phosphorus fertilisers are causing eutrophication in the Baltic sea. Industrial farming practices are causing oxygen depletion turning the Baltic sea into a desert. The Sahrawi indigenous nomads have been displaced because of the phosphate mines in their homeland of Western Sahara. The Sahrawi who now live in refugee camps in the Hamada Desert are finding ways of farming without processed phosphorus, farming in sand because they don't have soil, thus creating their own local soil, fertilisers and food. Family gardens and their site specific knowledge is being developed to create food locally in the desert. The sandoponic garden model is one manifestation of such knowledge. Sahrawi artist Mohamed Sleiman Labat explores such interwoven themes and topics in his film DESERT PHOSfate. The multilayered narratives, stories and knowledge are mapping the multiple destinies of this mineral.
Mohamed Sleiman Labat is a visual artist, writer and filmmaker born and raised in the Sahrawi refugee camps in the Hamada desert, southwest Algeria. His art draws upon the past and present life of the Sahrawi people. He has been exploring these interconnected topics through different art practices, through film, writing and community-based art. Sleiman Labat's art aims to address pressing social, political and environmental issues whose impact is touching his local community and the world at large. Following a three-year artistic research project in Finland, a collaboration project with Pekka Niskanen investigating Phosphate and its impact on two different environments, the desert and the Baltic Sea.
Communities of care with Sonya Lindfors, Ama Kyei, and Melissa Linsa moderated by H Ouramo (Auditorium)
This conversation reflects on the process and staginf of common moves, the collaborative artwork conceived by Sonya Lindfors for Helsinki Biennial. Taking form as a 'social choreography' or 'choreography of the community', he work operates as a speculative site. Through the act of occupying public space and applying simple scores and choreographies, it questions our conception of what is held to be 'in common', whether social norms or habits, whether something shared, public, or regularly occurring, whether something that is not underrepresented or marginalized, or whether something that does not stop the flow, that belongs. The work softly resists the current by changing and moving what is 'common'. Please read more of the project and learn about the group here!
Sound performance |
Geävlliene, bárrun, guassane – As a circle, as a wave, as a sprouce by Elina Waage Mikalsen and Katarina Barruk
Katarina Barruk and Elina Waage Mikalsen have worked together for many years. For this new performance they will bring both voice-play, fragments of joik and traditional joiks from our respective home areas. Together they unite their individual backgrounds from Ume Sámi and Sea Sámi culture and share a mutual desire to create art and music on their own terms.
Elina Waage Mikalsen is an interdisciplinary artist and musician from Romssa/Tromsø, Sápmi. She works with sound, text, textile, performance and installation. In her sound practice, she often mix field recordings, voice, electronics and home-built instruments to create sonic spaces that exist somewhere between reality and fantasy Elina is both Sámi and Norwegian, which is a recurring theme in her artistic practice. The holes that Norwegian assimilation process has created in her own family history have become a starting point for fantasizing about and discussing what these holes represent, what matter they constitute and how they affect us today. Which and whose stories are being told? What is forgotten, and what is the consequence of the gaps that arise in our memories and cultural practices?
Katarina Barruk is an ume-sámi joiker and musician from Lusspie (Storuman) and Gajhrege (Gardfjäll), currently based in Oslo. Her powerful and ringing voice has built a captive audience over the years. She recently contributed a sound piece to Gwangju Biennale in South Korea, and released her second album, Ruhttuo (Boreal Forest), with Norwegian producers Arnljot Nordvik and Christo Stangness. Barruk's distinctive voice and stage presence creates a space of vulnerability and strength.

Sound Performance | The New Pangaea – Interspecies Cantata by Band of Weeds with VJ J. Culebro
The New Pangaea is an interspecies cantata inspired by the myriad interactions between humans and plants on the island of Seili. The cantata introduces twenty plants, which represent diverse modes of migration to, as well as disappearance from, the island. The audio material played in the concert has been collected in Seili either with microphones or by transforming the electrical conductivity of the plants into sounds audible to the human ear. Seili is largely a nature reserve and the plants growing there are not to be picked or transported. With this in mind, Band of Weeds does not perform with live plants in the concert. In correlation with the cantata's thematics and attention to the interrelations between humans and plants during different periods of time, vocalist Anniina Saksa has been invited to perform with the plants, singing notes which respond to the variations in each plant's electrical conductivity. Work commissioned by CAA Contemporary Art Archipelago.
Band of Weeds is a sound collective, which was founded in 2015. At first, it was only a conceptual band created by Kalle Hamm and Dzamil Kamanger, and existed only on a paper. It became a real band, which releases LPs and gives live concerts, in 2017. The first album – Other-Than-Human – was released in autumn 2017, and the EP Waiting for the Extinction in the spring 2019. The current members of the band are now Olli Aarni, Lauri Ainala, Kalle Hamm, Hermanni Keko and Anniina Saksa featuring different plants depending on the project. All the sound material is recorded from the plants using the method developed by the Soviet botanist Ivan Gunar. There are ionised liquids running inside the plant tissues and the changes in their electro-magnetic field can be converted to the sound range audible for the human ear.
Jaime Culebro is a photographer and audiovisual producer hailing from the vibrant region of Chiapas, Mexico. With a deep passion for water and environmental sustainability, Culebro has also been actively involved in projects related to water conservation and algae research. Through his lens, he delves into the intricate tapestry of urban landscapes, capturing the beauty of solitary fragments, unknown characters, and abstract facets of reality. His photographs not only tell stories but also evoke emotions, inviting viewers to see the world from new perspectives.