A commemoration day for Ilma Lindgren
02.9 klo 13:00
— Hakaniemi Market Square and Cultural Centre Caisa (Kaikukatu 4 B)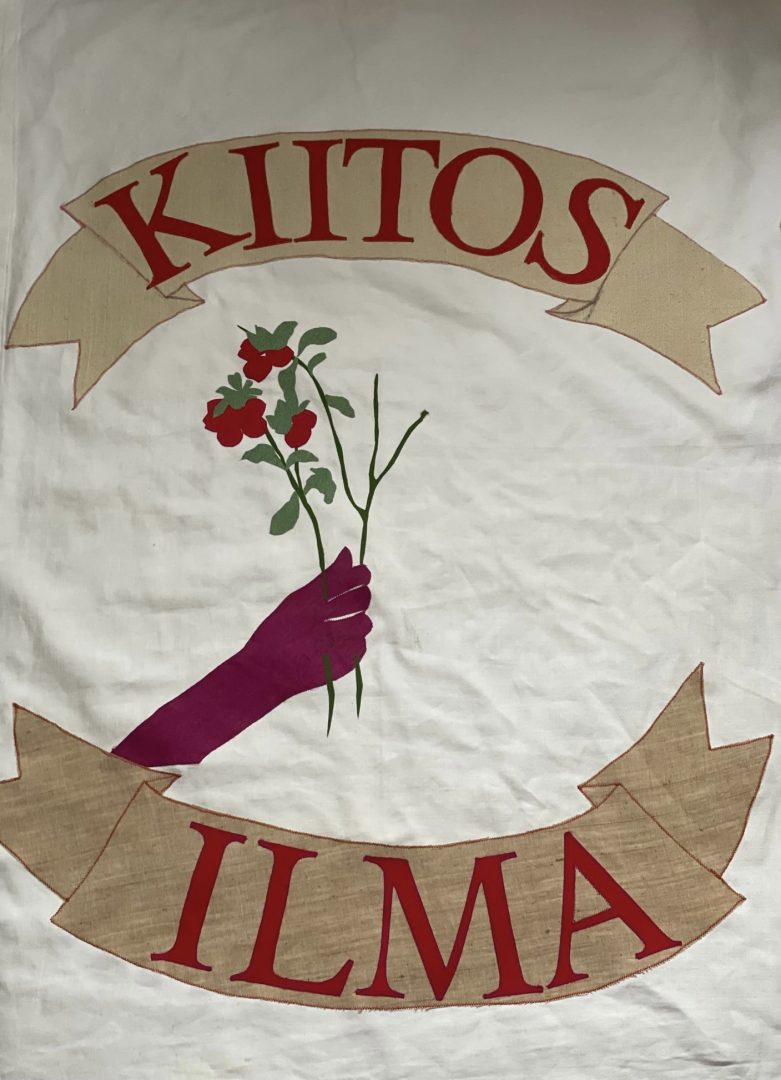 Banner by: Maedhbh McMahon
Welcome to a commemoration day for Ilma Lindgren, who fought for the right to roam free and forage (jokaisenoikeudet 1914-1920). It all started with a bucket of lingonberries picked on an island.  The event is part of Lotta Petronella's work Materia Medica of Islands with chef Sami Tallberg and composer Lau Nau curated by Giovanna Esposito Yussif for Helsinki Biennial.
Schedule
13:00 | Gathering at Hakaniemi square in front of Hakaniemi Market Hall (Vanha Kauppahalli). Performances by Cécile Orblin and Gerard Mannix Flynn
13:15 | Parade leaves from Hakaniemi square to Caisa with a choir.
The participants consist of a choir of volunteers and other performers. They have been advised to dress to colours of lingonberry.
We start by walking from Hakaniemi Square to Miina Sillanpäänkatu, cross the crosswalk, turn left to Näkinkuja from where we turn right to Näkinpolku. We walk along Näkinpolku which changes to Helmiäispolku. Cross Haapaniemenkatu and walk alongside Väinö Tannerin kenttä. Once we have crossed Kaikukatu, we have reached Caisa.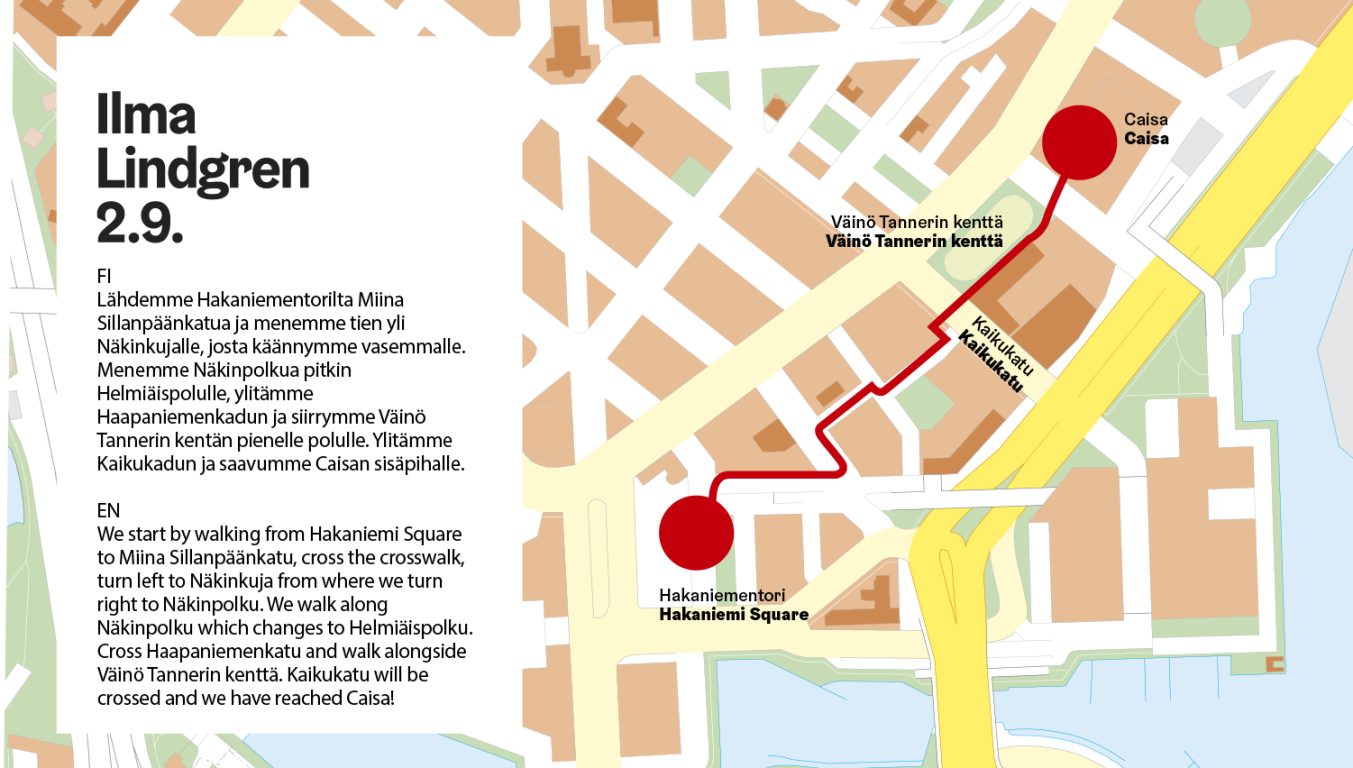 13:30 | Celebration of Ilma Lindgren at Caisa and whipped lingonberry tribute made by Sami Tallberg
14:00-16:00 | DJ Miia Laine

You are warmly welcome!
//
The event is part of Polyphonic Entanglements, a discursive series developed by the Museum of Impossible Forms for the Helsinki Biennial. The program is conceived as an evolving assemblage that contextualises and expands on the diverse practices and debates present in this biennial. The second iteration of this series will be on September Friday 1st and Saturday 2nd at Caisa Cultural Centre (Kaikukatu 4 B).
The two-days gathering brings together lectures, conversations, performances, screenings, sonic interventions and a parade to commemorate Ilma Lindgren. The program convenes the following practitioners Ahmed Al-Nawas, Joss Allen, Band of Weeds, Katarina Barruk, J Culebro, Gerard Mannix Flynn, Minna Henriksson, Anu Huttunen, Ama Kyei, Miia Laine, Sonya Lindfors, Melissa Linsa, LuontoPortti, Maedhbh McMahon, Lau Nau, Cécile Orblin, H Ouramo, Lotta Petronella, Sepideh Rahaa, Mohamed Sleiman Labat, Sami Tallberg, Simmo Vassinen, Elina Waage Mikalsen.
The programme is curated by Giovanna Esposito Yussif, Artistic Director of Museum of Impossible Forms.