Sonya Lindfors: common moves
29.7 - 13.8
— Julkisissa paikoissa Helsingissä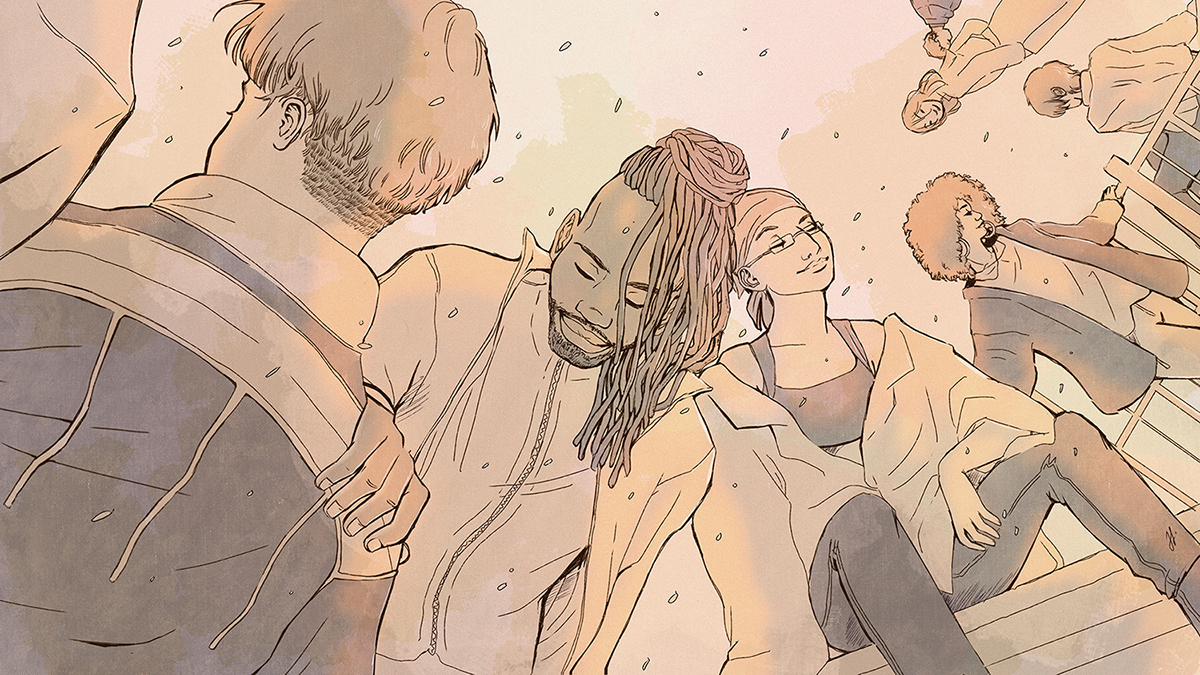 common moves is a new collaborative artwork, a 'social choreography' or 'choreography of the community'. The work operates as a speculative site. Through the act of occupying public space and applying simple scores and choreographies, it questions our conception of what is held to be 'in common', whether social norms or habits, whether something shared, public, or regularly occurring, whether something that is not underrepresented or marginalized, or whether something that does not stop the flow, that belongs. The work softly resists the current by changing and moving what is 'common'.
The work is realized in collaboration with BIPOC artists and volunteers in Helsinki and is thus rooted in local conversations and urgencies. common moves takes place in several sites around central Helsinki.
BIPOC is an term that stands for Black, Indigenous, and People of Color. It is used as a way to refer collectively to individuals and communities who have historically experienced systemic racism, discrimination, and marginalization on the basis of their race or ethnicity. The term is intended to acknowledge the diverse experiences and struggles of these groups and to promote solidarity and social justice.
Event info
Creator: Sonya Lindfors
Dramaturg: H Ouramo
Facilitators: Godwin Otieno, Melissa Linsa and Ritni Pieski
The work can be experienced in Helsinki between 29 July and 13 August in several public spaces. Some of the dates, times and locations of the practices are published before hand but most are encountered without notice.
Interested in taking part?
If you are a young or an adult member of the BIPOC community and wish to take part to common moves as a volunteer performer, please apply to take part.
Apply from here until 12 June!
Attendees under 16 years old are acquired to attend with a guardian.
Working group
Godwin Otieno's performing arts career started in 2009 with the Youth Accosted With Arts program (YAWA) in Kisumu, Kenya. After a period of intensive education in the arts, Otieno has performed in Kenya, Netherlands, Germany, Rwanda, Uganda, Tanzania and Finland. Since a visit in Finland for a project with Danceteam International franchise in 2017, Otieno has worked for top Finnish artists, art Institutions, productions, choreographers and companies – and teaches classes in several dance schools in Finland.
Godwin continues to research and define his artistry through his experiences and projects.
Melissa Şimşek-Linsa is a Turkish-Iranian photographer, dance artist, DJ and an intersectional feminist. In addition, Melissa is an active member in the ballroom community.
Community is highly important to Melissa ja in their work they like to concentrate on adding to, developing and building communities. In addition, in their work Melissa likes to bring forward representations of QBIPOC and the diversity of gender and sexuality.
Máret Ásllat Ivvár Ovllá Nilla Ritni, Ritni Pieski (they/he) is a queer Deanu-Sámi performance artist and activist. In art, they are busy with drag, decoloniality, queering up, joy and playfulness. Pieski's latest work, their own decolonial utopia Girjái, got their premiere in last April.
Pieski has been active with queer Sámi issues. They were the main organizor of Sápmi Pride in 2021.
H Ouramo (they/them) is a performance artist and educator based in Helsinki. They are currently working as head of Art School Maa, an independent art school in Helsinki that focuses on artistic thinking and experimentation. In Maa, they work with questions of access, passing and continuities in a community that seeks new vocabularies for education and learning.
Their artistic work deals with unspoken asymmetries of power, gender and economies of material extraction. Central to their work is the meaning-making of a trans body and looking at why something is recognized and what makes that recognition possible.