Sonya Lindfors: common moves
29.7 - 13.8
— Public spaces in Helsinki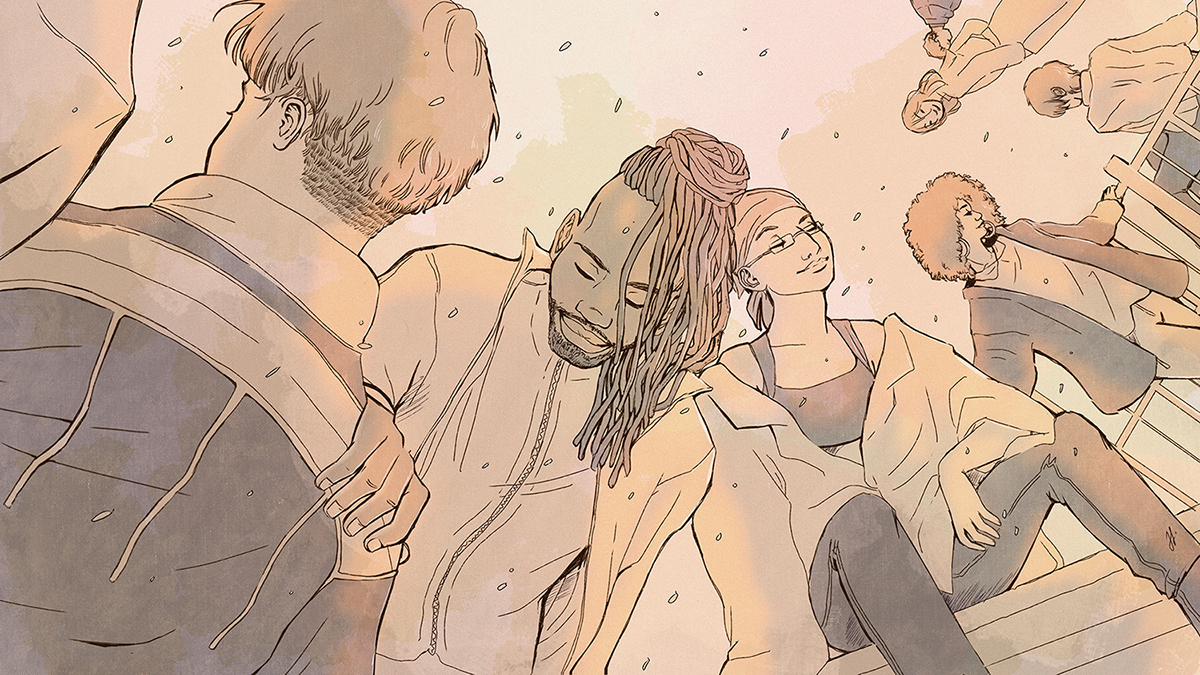 common moves is a new collaborative artwork, a 'social choreography' or 'choreography of the community'. The work operates as a speculative site. Through the act of occupying public space and applying simple scores and choreographies, it questions our conception of what is held to be 'in common', whether social norms or habits, whether something shared, public, or regularly occurring, whether something that is not underrepresented or marginalized, or whether something that does not stop the flow, that belongs. The work softly resists the current by changing and moving what is 'common'.
The work is realized in collaboration with BIPOC artists and volunteers in Helsinki and is thus rooted in local conversations and urgencies. common moves takes place in several sites around central Helsinki.
BIPOC is an term that stands for Black, Indigenous, and People of Color. It is used as a way to refer collectively to individuals and communities who have historically experienced systemic racism, discrimination, and marginalization on the basis of their race or ethnicity. The term is intended to acknowledge the diverse experiences and struggles of these groups and to promote solidarity and social justice.
Event info
Creator: Sonya Lindfors
Dramaturg: H Ouramo
Facilitators: Ama Kyei, Melissa Linsa and Ritni Pieski
The work can be experienced in Helsinki between 29 July and 13 August in several public spaces. Some of the dates, times and locations of the practices are published before hand and some are encountered without notice.
NOTE! Two of the three groups present their work outside in the open air. If it is heavily raining or there is thunder, the practice will NOT be done. In light rain and in other weather conditions the practice is done.
The published dates and times are

Facilitated by Ritni Pieski, at Oodi Central library, 3rd floor
The public practice is lead by Ritni Pieski and presented by Ziggy Allen, Miklu Mikkanen, Kiia Beilinson, Bintu Hellman and Mellakka – along with preregistered volunteers.
Wed 2.8. at 18.00
Fri 4.8. at 13:00
Mon 7.8. at 17:00
Wed 9.8. at 13:00
common moves will be presented on Oodi's 3rd floor. From the elevators/stairs turn left. You can ask more info from the Helsinki Biennial staff.
Oodi is accessible and has accessible & gender neutral toilets available.
Read Oodi's accessibility info from their website.
Read more about arriving to Oodi from their site.

Facilitated by Ama Kyei, at Tallinnanaukio, Itäkeskus
The public practice is lead by Ama Kyei and presented by Chen Nadler, Christian Bejedi, Nia Sullivan, Phan Nguyen and Bentality – along with preregistered volunteers.
Thu 3.8. at 18:00
Sat 5.8. at 18:00
Mon 7.8. at 18:00
Sat 12.8. at 17:00
Note! Unfortunately the 13.8. public practice has been cancelled!
common moves will be presented at Tallinnanaukio Market Square, at Itäkeskus. You can follow the public practice from the benches at Tallinnanaukio, standing around the square, or in front of the metro station. The Helsinki Biennial staff will arrive to the space with the working group. The work starts from Tallinnanaukio square and moves to Stoa square through the pedestrian bridge.

Please note! The bridge ends to a stairway not accessible with a wheelchair. Before entering the bridge from Tallinnanaukio square, there is an elevator to your right leading to the ground floor. From there you need to cross the street to enter Stoa premises.

Facilitated by Melissa Şimşek-Linsa , at Esplanadi park
The public practice is lead by Melissa Şimşek-Linsa and presented by Santi Garzon, Kai Soumah, Angel Emmanuel, Yoandy Jimeno and Naomi Holopainen – along with preregistered volunteers.

Thu 3.8. at 14:00
Fri 4.8. at 18:00
Sun 6.8. at 15:00
Wed 9.8. at 18:00
common moves is presented at Esplanadi park, in front of the central statue and towards the harbor from there. The performers move near by the statue towards the harbor and back. You can follow the piece from the benches at the park or by standing either near the statue or closer to the Espan lava/Kappeli restaurant part of the park. The Helsinki Biennial staff walks with the group to the location and you can ask more questions from them.
The pathway to the Esplanadi park from different sides is accessible in that sense, that there are no stairs you need to take to access. The ground is gravel and sand. You can come to the location for example by taking a metro to University of Helsinki, by taking a tram to Aleksanterinkatu or from the central railway station.
Working group
Ama Kyei is a Finnish-Ghanaian dancer, dance teacher, choreographer and a doula. Ama is active both in the underground hip hop community and in the performance field. She has choreographed two childrens dance performances. Ama Kyei has lived 8 years in Sweden and now in the last year and a half she has spent most of her time in her dads home country Ghana.
Melissa Şimşek-Linsa is a Turkish-Iranian photographer, dance artist, DJ and an intersectional feminist. In addition, Melissa is an active member in the ballroom community.
Community is highly important to Melissa ja in their work they like to concentrate on adding to, developing and building communities. In addition, in their work Melissa likes to bring forward representations of QBIPOC and the diversity of gender and sexuality.
Máret Ásllat Ivvár Ovllá Nilla Ritni, Ritni Pieski (they/he) is a queer Deanu-Sámi performance artist and activist. In art, they are busy with drag, decoloniality, queering up, joy and playfulness. Pieski's latest work, their own decolonial utopia Girjái, got their premiere in last April.
Pieski has been active with queer Sámi issues. They were the main organizor of Sápmi Pride in 2021.
H Ouramo (they/them) is a performance artist and educator based in Helsinki. They are currently working as head of Art School Maa, an independent art school in Helsinki that focuses on artistic thinking and experimentation. In Maa, they work with questions of access, passing and continuities in a community that seeks new vocabularies for education and learning.
Their artistic work deals with unspoken asymmetries of power, gender and economies of material extraction. Central to their work is the meaning-making of a trans body and looking at why something is recognized and what makes that recognition possible.
Read more about Sonya Lindfors work here.